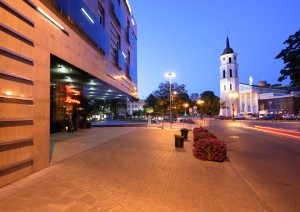 The Conference accommodation is at "AMBERTON" Holet in Vilnius.
It is a four-star hotel situated in the very heart of the city, facing the Cathedral.
You will reach Vilnius Airport in 20 minutes. It will only take an hour to Karmėlava Airport in Kaunas.
To reach Mykolas Romeris University (Ateities st. 20, Vilnius) will take you no more than 30 minutes by bus or taxi.
PRICES of ROOMS:  
The conference delegates will have the special price:
55 Euros per day for a single room (app. 190 Lt)
OR
65 Euros per day for a twin/double room (app. 225 Lt)
To Register click on http://www.klaipedahotel.lt/vilnius/ , go to "En" and then to  the link "Reservations".   Alternatively, please send your reservation via email: vilnius@klaipedahotel.lt.  
IMPORTANT!
Please DO NOT forget to write "ISME" in Comments box (without it you will be charged regular hotel price).
Address:
AMBERTON Hotel Vilnius
L.Stuokos-Guceviciaus st.1, Vilnius
Tel. +370 5 2107461
Fax. +370 5 2107460
http://www.ambertonhotels.com/en/